Tania Toffanin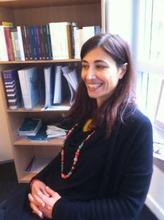 Tania Toffanin received her Ph.D in Labour Studies from the Università di Milano (Italy) with a Thesis in Economic Sociology on the causes and effects of the industrial fragmentation in Italy.
 Her research interests are mainly focused on the analysis of working conditions and economic processes. Moreover, she is interested in theoretical issues and empirical findings on the gendered division of labour. She has taught Sociology of Work, Sociology of Professions and Gender and Work at the Università di Padova for several years.
Arrival: 15/01/2015
Scientific project: The Transformation of Luxury. The Analysis of the Luxury as Relation between Production and Consumption, Firms, Markets and Social Differentiation.
This research project aims to deepen the issues related to the production and the consumption of luxury goods in a comparative and long-term frame. The hypothesis supporting the research is that more than other industries, the industry of luxury has fully shaped its structure during the new international division of labour arisen during the last half of the seventies and the eighties of the twentieth century because of its role in the accumulation cycle and its close connection with the financial capital. Likewise the concept of "luxury" has changed by redefining new patterns of consumption, partially assimilated to fashion goods, in prêt-à-porter clothing and labelled accessories, partially represented by tailored and handmade production and also exemplified by the industrialized production made by some international luxury brand corporations.
The purpose this research project is to study the relationship between the production and consumption of luxury goods and contemporary capitalism, with the analysis of the following issues, strictly related:
a. The luxury as a concept: the theoretical debate on luxury goods, with a specific focus on the structuring process involving the construction of the need of luxury goods in contemporary capitalism and the changing meanings of "luxury goods" as a consequence of the rise of consumer culture;
b. The mapping of the industry of luxury: the manufacturing and the consumption of luxury goods at global level, since the beginning of the 20th century and beyond;
c. The economy of luxury: different stages of the expansion of the global demand and supply of luxury goods and the relationship between trends in consumptions (including debt-based consumptions) and socio-economic inequalities in G20 countries.